UTI (Ullage Temperature Interface) is a detector used to measure the ullage, temperature, and the oil-water interface onboard tankers. In this blog post, we examine the UTI functions, principles of working and the importance of its annual calibration.   
What is UTI?
The UTI detector is a portable liquid level gauge that is commonly used in the shipping industry to measure the amount of hydrocarbons and chemicals in a ship's tank. This device includes a sensor probe, measurement tape, display unit, and winding drum. Its primary purpose is to determine the temperature and oil-water interface on tanker vessels by attaching the sensor probe to the measurement tape, which can vary in length from 15m to 40m. Manufacturers offer a temperature range between -40°C and 110°C. All UTI meters have earth grounding capabilities for safety purposes.
Note: It is very important that the UTI is grounded to the tank before the probe is introduced into the tank and remains grounded until after complete withdrawal from the tank.
How does UTI work?
Ullage Detection
The ullage detector integrates two elements (1) electronic circuits and (2) two piezoceramic plates. When the sensor head reaches the oil or petroleum, an ultrasonic sound is emitted. The receiver processes and sends this sound to the instrument unit that emits a continuous beep sound.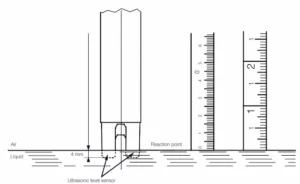 Temperature Detection
The sensing component is a Platinum Resistance Temperature Detector (RTD). This element is situated in the temperature electrode that is filled with a heat transfer compound paste to hasten the latency. After digitizing the RTD element signal, the micro-controller in the sensor probe corrects and compensates for any errors. The RTD element's attributes are saved in the sensor memory and are exclusively for that sensor, so a new calibration is not required when replacing the sensor. The micro-controller sends the data to the Display Unit that can be read by the technician.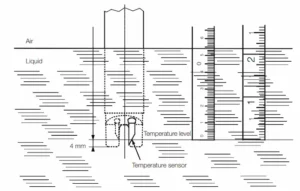 Interface Detection
The operating principle for interface detection involves measuring conductivity between an active electrode and a grounded electrode. When the liquid measured is conductive (e.g., water), the ullage sensor detects its existence. Afterwards, the conductivity electrodes and their related electronic circuits modify the coded signal generating an intermittent beep sound.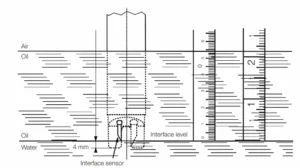 What types of UTI exist?
UTI meters can be either open or closed types, with the latter having a gas-tight body to prevent hazardous gases from escaping the measurement tank.
Closed Gauging Tape
The Portable Closed Flexi-Dip measuring tape is a battery-operated electronic unit that is totally gas-tight. When installed in a vapour-control valve mounted on a storage (cargo) tank, it forms a tightly sealed system that prevents toxic vapours from escaping and creates a closed gauging system for that tank. The tape is marked in metric or English units and is anti-static coated (as is the sensor). In addition, the tape is colour marked to make tape direction and motion easily seen and to ensure full rewind position. A coiled grounding cable with a large alligator clip is standard. This closed system is recognized by many worldwide regulatory bodies as equivalent to a fixed gauging system as long as the tape remains in the valve from the beginning until the end of loading or discharging of the tank.
Open (and Restricted) Gauging Tape
Restricted and Open Gauging Tapes provide a convenient and accurate means for measuring ullage, product temperature and the oil-water interface. The units are configured to operate in the trimode, bimode, interface or temperature mode. Each instrument is designed to maximize ease of use. A single penetration of each tank can provide comprehensive data about internal tank conditions. When the electronic probe senses hydrocarbon, a steady tone is heard; when sensing water, it emits an intermittent tone. Temperature is shown on an LED display in the hub of the instrument.
How often should you calibrate the UTI?
To ensure the UTI's accurate measurements and function, it should be calibrated once a year by a specialized maker service company. Mr. Marine Instruments & Controls repairs and calibrates all types of UTI detectors and has a large stock of spare parts in our warehouses.
As specialized partners for MMC and Honeywell, we also have a stock of new and refurbished UTIs available for fast delivery. Please feel free to contact us for more information.
About Mr. Marine Instruments & Controls
Mr. Marine Instruments & Controls is your reliable partner to install, calibrate, certify, repair and maintain the following products:
UTI

Fixed gas detection

Portable gas detection

Fire detection

Tank level monitoring

15 ppm oily water separators 15ppm 

ODME
Our technicians are available in 150+ global ports 24/4 to ensure the safety and compliance of your vessel. Contact our team to book your next service.